Telangana govt jobs 2021 notification: Get all current & upcoming Telangana jobs details. Know the latest Telangana employment News Admit card, results, recruitment notifications etc. if you are searching for govt jobs in Telangana, and then you are in right place to get Telangana free govt job alerts. sarkari result com provides latest Telangana psc, police, revenue, health department jobs regularly.
find district wise vacancies in Telangana for 12th, 10th pass also any degree graduate engineers, subscribe to Telangana govt jobs 2021 by bookmarking this page or download sarkariresult app or follow us on social media. Before knowing Telangana govt job notifications, make sure to check all India central govt jobs too.
50000 vacancies ts govt  jobs 2021 notification *
19910 – Police
16000-teacher
1740 -agriculture
1500 – animal husbandry
1027 – bc welfare
350-sc,st welfare
1553 – municipal (ts municipal notification)
4000 – others
20000 maybe extra.
ts govt jobs 2021 notification list

Recruitment Board
Post Name / vacancies
Last Date
NMDC Junior Officer Recruitment 2021 – 
63
23/3/2021
KVS Mahabubnagar Contractual teacher vacancy
teacher
8/3/2021
TS Postal Circle GDS Recruitment 2021 –
GDS / 1150 Posts
26th February 2021
dmho contract jobs
clerk/accountant
28-01-2021
SCCL Recruitment 2021 – 
fitter iti -374
04.02.2021
TS Army Recruitment Rally 2021 – hakimpet
soldier
28/2/2021
National Pension System Trust (NPS Trust)
Manager and Assistant Manager-14 posts
29-01-2021
State Bank of India (SBI)
Assistant Manager and Deputy Manager (Security Analyst)- 100 posts
11-01-2021
Army Public School, Bolarum
PGT, TGT, PRT – 52 Posts
20-01-2021
MIDHANI
Walking Hearth Furnace Operator, Rolling Mill Operator & Other – 7 Posts
09-01-2021
DRDO-DMRL
JRF/ Research Associate – 21 Posts
02-01-2021
MSME Tool Room, Hyderabad
Placement Officer, Trainer, Engineer, Tool Maker & Other – 29 Posts
02-01-2021
DRDO-DRDL
JRF-7 POSTS
31-12-2021
DMHO, Mahabubabad
Staff Nurse, Pharmacist, Medical Officer & Other – 10 Posts
27-12-2021
DMHO Medical Officer Recruitment
5
DMHO Staff Nurse Recruitment
5
29/12/2021
esic telangana Recruitment
187 / medical officer
23/12/2021
ts army recruitment rally notification 2021

jobs
soldier, gd, trade etc
Organization
indian army
Vacancies
–
Education
8th /10th pass
Last Date
march to april 2021
More Details
# TS indian army rally Recruitment
Ts municipal jobs notification 2021

jobs
bill collector, ward officer
Organization
telangana government
Vacancies
3200
Education
12/degree
Last Date
#soon
More Details
# TS municipal jobs notification
TS Govt Jobs : FInd the latest government jobs notifications by Telangana government. present & upcoming jobs information. (AAO, TREIRB, Bill collectors, Police, Group IV, VRO, AE, gurukul etc ).
This year Telangana government announced vacancies in almost department due to election mania. anyway this time we need to get job Telangana government to secure life. Try hard and get the job.
Latest TS / telangana government jobs
Telangana also eligible for apply All india & central government jobs
Upcoming & Present Unfilled govt jobs in telangana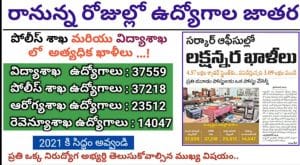 tstransco 300+ jobs
tspsc 5000+ jobs
ts govt jobs 2021 notification
| | | | | |
| --- | --- | --- | --- | --- |
| Category | jobs | selection process | salary | vacant & sanctioned jobs |
| group 1 | | Exam + interview | | 160 |
| group 2 | MRO , MPDO,municipal commissioner | Exam + interview | | |
| group 3 | | Exam only | | |
| | | | | |
| | | | | |
through upsc civils:
collector, ias officers, ips officers
group 1 jobs: deputy collector, JC,RDO,DGP, CP
, MRO, MPDO, SP,
Group 3 no interview
panchayat secretary grade 4,
group 4 junior assistants
Food safety officers
TS Govt jobs 2021 notification department wise

Department
jobs
Agriculture
Agriculture extension officer, Horticulture officer, TS Agriculture officer notification
Irrigation department
#TSPSC AE Recruitment
electricity boards
#TSgenco jobs AE/JE/SE/JPA / JLM
state administration service
ts group 1 posts, tspsc group 2 posts, ts group 4 posts
TS Police department
TS Constable, TS SI Notification, ACP /DSP through groups , #TS Home guard jobs

#TS jail warders, TS Police firemen

Revenue department
VRA, VRO, MRO, RDO, JC,  Sub registrar
Finance
Treasury officer / audit officer
Panchayat & rural development
Panchayat secretary, MPDO, DPO
Municipal
Municipal commissioner grade 4 through group 2, ghmc bill collector, ts municipal ward officer
water supply HMWSSB
Engineer / manager , regional manager
Civil supplies & Food
#TSPSC Food Safety officer
Education department
#PGT, TGT, PRT Teachers & Non teaching staff SGT

more at #TS Teachers recruitment

#TS Gurukulam jobs, NVS, KVS, KGBV, SSA

Forest department
#TS Forest Guard notification,  #Assistant forest beat officer

#forest beat officer, #forest section officer

animal husbandry
#tspsc veterinary assistant notification
Social welfare department (SC,ST, and obc)
#BC /SC/ ST Hostel wardens

#BC Welfare recruitment

Women and child Department
#TS Anganwadi worker & teacher
roads and buildings department telangana
TS Higher education
#TSPSC Assistant professor, Degree lecturers, JL, Polytechnic lecturers
Transport
IT Department
Excise & Prohibition
#Excise constables, Excise Sub Inspector
Medical & Health and Family Welfare
#TS Staff nurse, TS Doctors / medical officers, Pharmacist, lab technician,

#TSRTC
Driver, conductor
#SCCL
#Singareni recruitment

ITI,Engineer jobs , teachers

Also follow TS Cabinet ist & ministers present
Tsgenco & transco
AE/JE
accountant
JLM
JPA
police department jobs tslprb
home guard,
Sub inspector,
constable, fireman, jail warders,
Excise constables, excise Si
forest beat officers, forest guard
Teacher jobs
TGT,pgt,prt,
Lecturers, assistant professors
Staff selection commission / ssc jobs
Je,ldc clerk, mts,CGL,chal,
SI in delhi police & capf asi in cisf,
upsc
Geologist, forest service exam,
Defence jobs
navy: 12th entry, engineering entry
army: soldiers entry with 10th pass
Airforce: 12th pass entry sailor & officers.
IB ACIO: with degree.
Quick Links:
Waiting for Admit card & exam
Results & selection list yet to Release
TS High court Various Vacancy Interview Admit Card
TSSPDCL Jr Lineman Revised Rank List
Food Safety Officer Selection List
TSPSC Group 4  5th Spell Certificate Verification List & Dates
Telangana Govt jobs by Organization
Popular Recruitment Boards in Telangana
SCCL recruitment Karimnagar
TS Anganwadi Recruitment
GHMC Hyderabad Recruitment  // bill collector
Telangana Forest Department
Osmania University
Telangana State level Police Recruitment Board TSLPRB
TS Revenue department
TSSPDCL
TSTET // wating for results
TSPSC Group 1,2,3,4
Panchayat Secretary
Popular Jobs In Telangana Government
Constables
SI
VRO
panchayat karyadarshi / secretary
 MPDO, MRO Group 2 Jobs,
Group 3 and group 1.
Descriptive test only for Group 1 posts only.
TS candidates also apply for SSC, UPSC, Army, navy, bank jobs and other central government jobs.
Job Location: TELANGANA (TS)
Nizamabad
Khammam
Warangal
Hyderabad
Adilabad
Karimnagar
Mahbubnagar
Medak
Ranga Reddy
Telangana Recruitment results
Latest News on Telangana government Jobs
TS TREIRB 2932 TGT & PGT Posts released
TS KGBV recruitment for PGCRT Posts exam conducted on
6628 vidya volunteers to teach in high schools.
1524 Group 4 jobs, 700 vro, RTC 72 posts, revenue 524 Junior assistant jobs
TS Police recruitment age limit increased up to 3 years
Department of Agricultural Marketing, Govt. of Telangana going to fill 200 posts Assistant market survivors 80, junior market supervisor posts 60 and other etc
TSPSC Group 1 Notification for 125 Posts.
There is no news as of now regarding ts govt 9000 posts.
What are the Popular Recruitment Organizations in Telangana?
For government jobs Telangana Public service commission is main recruiting agency. For police jobs like constable, SI, Forest guard, Fireman, excise constables
Telangana state Police recruitment board takes responsibility to notify and complete recruitment process.
Telangana state electing board  tsgenco recruits engineers in Telangana Power general & Distribution Company itself. Meanwhile other departments in telangana like revenue, Panchayat raj, agriculture, food & civil supply departments depend on telangana public service commission.  Telangana health & family department notifies for various vacancies in contract basis posts like staff nurse, medical officer. NHM (NRHM) / National Rural Health Mission Telangana offer many staff nurse jobs. Also govt medical colleges & hospitals and esic fulfill medical jobs in telangana.
For recruiting teachers in govt school there is a Telangana teacher ability test by Telangana teachers recruitment board for filling vacancies like TGT, PGT, PRT, SGT etc in govt schools. For filling faculty especially Assistant professor Telangana govt depends on state public service commission, these jobs including in polytechnic degree lecturers, JL, DL also assistant professors in universities faculty in medical& engineering colleges.
there are huge opportunities from above govt departments to get ts govt jobs 2021 notification announcements.
How sarkariresultz.in Help with TS govt jobs 2021 Notifications?
You can subscribe to your ts govt jobs 2021 notification alerts by bookmarking this page, also on facebook, twitter through mobile app. This page updates latest Telangana govt jobs News & Notifications Current & upcoming Vacancy Info.
Also you can find Telangana public service commission exams syllabus, notification status like Admit card, exam date, results and final selection merit list.
Whatsapp viral message regarding ts govt jobs
పోలీస్‌ శాఖ – 37,820 పోస్టులు
2. విద్యుత్ శాఖ- 12,961 పోస్టులు
3. గురుకులాలు – 12,438 పోస్టులు
4. విద్యాశాఖ(టీచర్లు) – 12,005 పోస్టులు
5. వైద్యారోగ్యశాఖ- 8,347 పోస్టులు
6. సింగరేణి – 7,785 పోస్టులు
7. టీఎస్‌ ఆర్టీసీ – 3,950 పోస్టులు
8. పంచాయతీరాజ్‌ శాఖ – 3,528 పోస్టులు
9. రెవెన్యూశాఖ – 2,506 పోస్టులు
10. అటవీశాఖ – 2,033 పోస్టులు
11. పురపాలక పఠనాభివృది శాఖ – 1,952 పోస్టులు
12. ఉన్నత విద్యా శాఖ – 1,678 పోస్టులు
13. నీటిపారుదల శాఖ – 1,058 పోస్టులు
14. ఆర్ధిక శాఖ – 720 పోస్టులు
15. మహిళా, శిశుసంక్షేమ శాఖ – 587 పోస్టులు
16. రోడ్లు, భవనాలశాఖ – 513 పోస్టులు
17. రవాణాశాఖ – 182 పోస్టులు
పోలీస్‌ శాఖ ఖాళీలు :
సబ్‌ ఇన్‌స్పెక్టర్స్‌ – 1739 పోస్టులు
పోలీస్‌ కానిస్టేబుల్స్‌ – 38,081 పోస్టులు
పాఠశాల విద్యాశాఖ :
మోడల్‌ స్కూల్‌ ప్రీన్సిపాల్స్‌ – 88 పోస్టులు
పీజీటీ – 477 పోస్టులు
టీజీటీ – 985 పోస్టులు
టీచర్‌ పోస్టుల ఖాళలు :
స్కూల్‌ అసిస్టెంట్స్‌ – 1,950 పోస్టులు
సెకండ్‌ గ్రేడ్‌ టీచర్స్‌ – 5415 పోస్టులు
లాంగ్వేజీ పండిట్స్‌ – 1,011 పోస్టులు
ప్రీఈః – 416 పోస్టులు
డైట్‌ కాలేజీ లెక్కరర్లు – 49 పోస్టులు
డైట్‌ సీనియర్‌ లెక్కరర్లు – 19 పోస్టులు
ఐఏఎస్‌ళ లకృరర్లు – 18 పోస్టులు
ఇతర పోస్టులు – 2197 పోస్టులు
గురుకులపారతాలలటీచర్లు – 541 పోస్టులు
వైద్యారోగ్యశాఖ:
డాక్టర్లు (అన్ని రకాలు) – 4347 పోస్టులు
ల్యాబ్‌ ఆసిస్టెంట్లు – 4347 పోస్టులు
ఇతీర పోస్టులు – 4000 పోస్టులు
టీఎస్‌ ఆర్టీసీ:
జూనియర్‌ అసిస్టెంట్స్‌ (ఫైనాన్స్‌) – 39 పోస్టులు
జూనియర్‌ అసిస్టెంట్స్‌ (పర్శనల్‌) – 39 పోస్టులు
మెకానికల్‌ సూపర్‌వైజర్స్‌టైనీ – 123 పోస్టులు
ట్రాఫిక్‌ సూపర్‌వైజర్‌ టైన్‌ – 84 పోస్టులు
ఆఫీస్‌ అండర్‌ ట్రైనీ జనరల్‌ – 39 పోస్టులు
ఆర్టీసీ కానిస్టేబిల్స్‌ – 280 పోస్టులు
ఇతర పోస్టులు – 615 పోస్టులు
రెవెన్యూశాఖ :
జూనియర్‌ అసిస్టెంట్‌/టైపస్ట్‌ – 421 పోస్టులు
డిప్యూటీ కలర్స్‌ – 08 పోస్టులు
డిప్యూటీ తహసీల్దార్లు – 38 పోస్టులు
వీఆర్వోలు – 700 పోస్టులు
డిప్యూటీ సర్వేయర్లు – 210 పోస్టులు
కంప్యూటర్‌ డ్రాఫ్ట్‌మెన్‌ – 50 పోస్టులు
డిస్‌ రిజిస్తార్‌ – 07 పోస్టులు
సట్‌ రిజ్ట్తార్‌ – 22 పోస్టులు
ఇతర పోస్టులు – 1,000 పోస్టులు
వ్యవసాయశాఖ:
ఏువోలు – 1911 పోస్టులు
హార్టికల్చర్‌ ఆఫీసర్స్‌ – 75 పోస్టులు
అగీకలార్‌ ఆఫీసర్‌, – 120 పోస్టులు
అటవీశాఖ:
ఫారెస్ట్‌ రేంజ్‌ ఆఫీసర్స్‌ – 200 పోస్టులు
ఫారెస్ట్‌ సెక్షన్‌ ఆఫీసర్స్‌ – 816 పోస్టులు
ఫారెస్ట్‌ బీట్‌ ఆఫీసర్స్‌ – 1,000 పోస్టులు
అసిస్టెంట్‌ బీట్‌ ఆఫీసర్స్‌ – 217 పోస్టులు
అసిస్టెంట్‌ ఎగ్జిక్యూటివ్‌ ఇంజనీర్స్‌ – 79 పోస్టులు
ఏఈ /ఎంపఈ/టీవో పోస్టులు – 202 పోస్టులు
ట్వలీవో – 123 పోస్టులు
టీస్‌ – 200 పోస్టులు
పుడ్‌ ఇన్‌స్నెక్ట్స్‌ – 20 పోస్టులు
మేనేజర్స్‌ ఇంజీనీర్‌(నోటిఫైడ్‌) – 146 పోస్టులు
అసిస్టెంట్‌ ఎఫ్‌ఏ(నోట్‌ఫైడ్‌) – 115 పోస్టులు
జనరల్‌ ఎంప్లాయిస్‌ – 858 పోస్టులు
ఇతర కిందస్టాయి ఉద్యోగాలు – 415 పోస్టులు
ఉన్నతవిద్యాశాఖ:
జూనియర్‌ లెక్బరర్లు – 392 పోస్టులు
ఫిజికల్‌ డైరెక్టర్స్‌ – 88 పోస్టులు
లైట్రేరియన్స్‌ – 50 పోస్టులు
ల్యాబ్‌ అటెండర్స్‌ – 429 పోస్టులు
కాలేజీయేట్‌ ఎడ్యుకేషన్‌:
ఫిజీకల్‌ డైరెక్టర్స్‌ – 25 పోస్టులు
లైట్రేరియన్స్‌ – 21 పోస్టులు
ల్యాబ్‌ అసిస్టెంట్స్‌ – 301 పోస్టులు
సాంకేతిక విద్యా శాఖ:
లె్బరర్చ్‌ – 192 పోస్టులు
ఫిజికల్‌ డైరెక్టర్స్‌ – 31 పోస్టులు
లైట్రేరియన్స్‌ – 28 పోస్టులు
ల్యాబ్‌ అటెండర్స్‌ – 141 పోస్టులు
నీటిపారుదలశాఖ:
ఇంజినీర్స్‌ అండ్‌ ఆఫీసర్స్‌ స్టాఫ్‌ – 1,058 పోస్టులు
ఆర్ధికశాఖ:
ఆడిట్‌ ఆఫీసర్స్‌/ ట్రజరీ ఆఫీసర్స్‌ – 720 పోస్టులు
మహిళా, శిశుసంక్షేమ శాఖ:
సూపర్‌ వైజర్స్‌ ఎ – 58 పోస్టులు
రోడ్లు, భవనాలశాఖ :
ఇంజినీర్‌ అండ్‌ ఆఫీసర్స్‌స్టాఫ్‌ – 513 పోస్టులు
త్సైజ్‌శాఖ:
కొనిస్టేబుల్స్‌, ఎ – 340 పోస్టులు
రవాణాశాఖ:
ఏఎంవీ ఇన్‌స్పెక్ట! – 5 పోస్టులు
కానిస్టేబుల్స్‌ – 197 పోస్టులు
పంచాయతీరాజ్‌ శాఖ:
ఇంజినీర్‌ అండ్‌ ఆఫీస్‌ స్టాఫ్‌ – 3528 పోస్టులు
How to register free job alert for TS govt jobs?
Enter your email address to get latest & upcoming ts govt job notifications from various departments / organization telangana. Clerk, steno, staff nurse, assistant, engineer and other various govt jobs in telangana waiting for you. Candidates can get telangana government job alerts by email, mobile app, web app etc.
Are there any female govt jobs notifications in telangana?
There is a reservation for female candidates along with community category in telangana govt jobs. Almost every govt job notification in telangana, also various in various departments like revenue, panchayat raj, agriculture & forest, police, health department.
What are 10th / 12th pass government jobs list in ts /telangana?
10th & 12th pass jobs accountable for 50-70% jobs in telangana, for 10th & 12th pass candidates there are various Group D jobs, as well as ITI Diploma jobs available in telangana state government and as well as central govt & PSU Companies. Steno, clerk, junior assistant, constable, home guard etc jobs available with 10th /12th pass in telangana;
What are the popular ts govt jobs 2021 notifications?
The TS government & State public service commission conducts public service exams yearly basis , those exams are group 1, 2, 3, 4 civil, forest, police, engineering service exams. In telangana most popular jobs are police department's constable jobs, because 1 constable required for every group of people.