Ts govt jobs 2021 notification: Get all current & upcoming Telangana jobs details. Know the latest Telangana employment News Admit card, results, recruitment notifications etc. if you are searching for govt jobs in Telangana, and then you are in right place to get Telangana free govt job alerts. sarkari result com provides latest Telangana psc, police, revenue, health department jobs regularly.
find district wise vacancies in Telangana for 12th, 10th pass also any degree graduate engineers, subscribe to Telangana govt jobs 2021 by bookmarking this page or download sarkariresult app or follow us on social media. Before knowing Telangana govt job notifications, make sure to check central government jobs to
Ts department wise vacancy 2021 calendar
50000 vacancy ts govt  jobs 2021 notification *
as of now, telangana government department submitted vacancy reports tspsc which is main recruiting agency for Telangana government jobs.  there are lot of vacancy for this year approximately 50000. constable and teacher jobs going to  account lot of jobs in this notifcation.
19910 – Police
16000-teacher
1740 -agriculture
1500 – animal husbandry
1027 – bc welfare
350-sc,st welfare
1553 – municipal (ts municipal notification)
4000 – others
20000 maybe extra.
Telangana also eligible for apply All india & central government jobs
Latest Jobs in TSPSC
TSPSC recruitment 2021>> TSPSC junior Assistant 2021 notifcation >> Pv narasimha rao veterinary university & Professor jayashankar agriculture university >>  tspsc veterinary assistant notification 2021 >> 
eklavya model residential school recruitment 2021 TSPSC Group 2 notification >> TSPSC Group 2 Syllabus >> TSPSC group 1 Notification >> TSPSC Group 1 syllabus >> TSPSC Group 4 notifcation 2021 >> TSPSC Group 4 Syllabus. #tspsc syllabus 2021,
TSPSC HMWSSB Manager notification 2021 , TSPSC HMWSSB Manager syllabu TSPSC AEE Notification 2021, TSPSC AE Notification 2021
#TSPSC Agriculture officer AO notifcation 2021 #TSPSC Agriculture extension officer AEO notifcation 2021 #tspsc horticulture officer notifcation HO 2021
#TSPSC Food inspector notification 2021 >>
Telangana anganwadi job 2021 – notifcation updates
Anganwadi teacher and worker helpers earns 12000 t0 7000 monthly salary in in telangana. its a outsourcing job. not government.
Age limit upto 45 years.
10th pass women candidates can apply as a teacher, and They also get promotion quota 50% in anganwadi supervisor salary starts from 49000 to 1 lakh as per 7th CPC Prc.
Notification released by District, and the district collector and its committee selects the anganwadi jobs in telangana by document and process online.
right now hyderabad district has 128 AWT and AWH. apply early and get selected without any competition. get passive income and new lifestyle..
last date: 16/5/2021.
anganwadi vacancy 2021 >> Telangana anganwadi teacher recruitment 2021 >> TSPSC anganwadi supervisor notifcation 2021.
junior Assistant cum typist jobs in telangana
Professor jaya shank agriculture university and PV narasimha rao Veterinary university released notifcation for junior and senior typist cum vacancy.
The last date still available 12th and degree passed candidates with any age limit below 40 years can apply.
Junior Secretariat Assistant jobs in CCMB with 12th pass closed on 5th may 2021. but another vacancy for junior assistant jobs in telangana.
NGRI Announced for Technical Assistant and Technical Officer jobs in Telangana for engineering graduates – the last date is 30th may 2021
Engineer Govt jobs in telangana 2021
CDAC announced fo0r 44 project engineer and manager jobs and the last date for application is 20th may 2021.
along with CDAC NGRI also Released notifcation for engineer as technical assistant and Officer
MBA Govt jobs – manger in telangana
Project manger and project officer jobs in cdac apply early and get the job, kindly follow this page to get the manger or mba govt jobs in telangana. management is key for every business but ts govt only focuses on production environment.
Stenographer Typist Govt jobs in telangana
When Compared to central government jobs there is a less requirement for Stenographer jobs in telangana government in 2021. However, There a upcoming notifcation >> ESIC Stenographer recruitment 2021 >> 6000+ please have a look at along with UDC and Clerk.
also  follow >> SSC Stenographer recruitment 2021 notifcation updates for upcoming and current exam date.
Clerk Jobs In telangana
There is a huge demand for Clerk jobs in banking sector but competition is also same. after software jobs.
5474 + Junior Associate jobs in State bank of India. 200 plus jobs allocated to telangana only. so apply before and test your skills
more at >> SBI Clerk 2021 Junior Associate.
Telangana govt jobs  vacancy by department 2021
as we already there will be 50000+ even more 1 lakhs + vacancy available in the telangana government, Now we are going cover department wise govt jobs in ts for 2021 notifications, most of the jobs are in Gurukul teachers but schools are closed due to corona, maybe there will be a choice to delay the ts gurukul  teacher notifcation. when come to Ts police recruitment vacancy.
TS Constable notifcation 2021 govt jobs – update
as per many sources, there will be 36081+ vacancy available, this gonna huge opportunity for the candidates who are in late twenties to get secure govt job in 2021 in ts,
Age limit for Constable job in telangana for general without reservation 18-25 years (5 year relaxation for BC,SC,ST especially in telangana government.  Education as we already know, it will be 12th pass.
Salary the constable basic starts from as 30000 per month with increased 30% fitment wit
You can download or check TS Constable syllabus 2021 to get govt job in telangana as early as possible.
The notifcation release date maybee within 1 month, because govt job means these days mostly ts govt jobs in 2021 vacant police department.
Get detailed updates at Telangana Police constable notifcation 2021,
Telangana education department notifcation 2021
School Education Department: 6930
Model Schools: 725
Residential Society: 378
Adult Education Department: 132
Government Exam Department: 22
Textbook Printing Department: 34
Public Library Department: 668
Government Publishing Company: 03
Jawahar Bal Bhawan: 40
SIET: 61
TSEWIDC: 74
TS govt Police jobs SI Sub -inspector 2021 – notifcation update
There will be 1739+ unfiled vacancy available in the Telangana government, TS police department going to release SI Notification along with constable recruitment. so when will we expect SI notifcation from police department or Telangana government?  the answer for the question is time, maybe its 2 months or few months.
The age limit and physical requirement TS police govt jobs in 2021, is height 165+ age below 28 years without age relaxation. for detailed eligibility you can check our TS Police SI notifcation 2021 page, by the minimum qualification ts police SI Is degree.
the syllabus for SI& constable is similar but its deep for SI or sub -inspector posts in telangana 2021. check out detailed TS SI syllabus 2021 for govt jobs in telangana police department.
Govt jobs in TSGenco or TS State electricity board 2021 Notification updates –
Telangana state electricity department accounts for 15+% 2021 ts govt jobs. TSgenco, tstransco, TSNPDCL, TSSPDCl are good opportunities for engineering candidates especially electrical and mechanical , and also there will bee junior accountant and junior assistant jobs for degree candidates holder,
the age limit is simple 18-28 the qualification engineering for junior engineer, AEE, assistant executive engineer posts in electricity department, also there will be a choice to get ts govt job in 2021  for engineers, public works department, hmwssb, tspsc etc.
12961 vacancy in TSgenco or telangana state electricity department?
what happens if Privatization of electricity boards. nothing impacted maybe*.
Follow our TSGenco recruitment 2021 page and also get get TSgenco AE syllabus 2021 for all engineering streams.
Final words: expected vacancy is 12,971+ ts govt jobs in electricity department for 2021 year.
TS Govt teacher vacancy notifcation in telangana 2021 – updates
After police department, teacher vacancy accounts most govt jobs in telangana for 2021 notifcation, but there will be delay in notifcation due to covid-19 situation presently schools are closed, but online classes are opened for regular classes. if you are passionate about teaching field to teach kids this will be an opportunity get awarded as one of the winner in 2021 ts govt jobs and to lead secure life. The education age limit details available detailed notifcation pages on our portal.
Model school Principals – 88
PGT – Post graduate teacher -477
TGT Teacher -365
School Assistants – 1950
Second grade teachers /SGT – 5415
Language pandit LPT – 1011
PET – Physical education teacher -416
Diet college lecturers – 49
DIET senior lecturers –  19
CTE Lecturers – 18
TS NOn teaching staff –  2197
to get more teacher vacancy info including central government KVS 2021 notifcation, NVS, KGBV, SSA follow our dedicated
TS govt teacher vacancy 2021 page.
TS Gurukulam notifcation for teacher 2021 – updates
12436 vacancy in gurukul schools in telangana.
80% for teachers as PGT , TGT and residential teachers.
20% for non teaching staff.
detailed vacancy report yet released telangana government in 2021 ts govt jobs notifcation list.
The qualification for teacher jobs : Degree with B.ed for TGT
Primary teachers below 5th class 12th class d.ed diploma in education.
Follow TS Gurukulam notification 2021 updates at edicated page.  and TS gurukulam non teaching staff recruitment 2021 details.
TSRTC Jobs 2021 notifcation Telangana government
Junior Assistant Finance – 39
Junior assistant Personnel – 33
Mechanical supervisor Trainee – 123
Traffic supervisor trainee – 84
Office under trainee general – 33
RTC Constables -280
Shramic – 743
Others –  2615
so where is conductor and driver  govt jobs in ts rtc 2021 notifcation?
These vacancy may recruited on contract basis or a separate notifcation will be there soon.
TS Health department govt jobs 2021 details
Doctors or medical Officers – 4347
Lab assistant – 4000
Staff Nurse —
Pharmacist –
It seems to be good opportunity for Young doctors to get a govt job, but is that doctor means young, now but maybe, 4 years MBBS at the age of 18-22, MD/ MS 3 years . at 25 years, the candidate can complete MD or MS, so he / she still a young guy. But most bsc nursing anm gnm candidates look for ts govt staff nurse not doctors.
You can follow Out TS health department recruitment page or TS NHM or medical officer recruitment 2021 page to get all india govt doctor job updates especially in AIIMS or any govt institution.
Staff nurse govt jobs 2021 notifications in telangana
TSPSC Yet to release 2000 + Staff nurse govt jobs notifications in telangana within this month. so candidates who are completed GNM, ANM, Diploma can follow >> TS Govt statff nurse vacancy 2021  and also all India Staff Nurse vacancy 2021.
TS Govt jobs in singareni collieries SCCL 2021
Recently SCCL announced for staff nurse, moulder etc for ITI cadre posts.
some posts like SCCL Junior Assistant Recruitment 2021
Notified but cancelled due to administration reasons may released as soon as possible, please download the syllabus and preparation to get a govt jobs in ts / telangana for 2021 year.
Mazdoor posts -7485  (to maintain) qualification will be 10th pass. follow SCCL Recruitment 2021 page to get timely updates.
Telangana agriculture department jobs 2021 notifcation details
AEO – Agriculture Extension Officer – 1311
HO – Horticulture Officer – 75
AO – Agriculture Officer – 120
Veterinary Assistant –  489
Group D & other – 440
There is a huge Opportunity for Bsc Agriculture candidates as well as veterinary degree holders. for Horticulture of officer also needs completed Ag bsc to get the jobs. i guess there will little or no competitor to get Agriculture officer or AEO. my advice for future officers, don't ask for bribe to sanction the schemes.
You can follow & download syllabus for TS Agriculture Extension Officer Notification 2021 
and follow TS agriculture Department Recruitment 2021  #AEO #AO, #HO 
Telangana Revenue department recruitment Details
Junior Assistant Typing – 421
Deputy collector -8 (Tspsc group 1)
Deputy Tahsildar -MRO – 38 (TSPSC Group 2)
VRO – 700 Vanished by KCR..? different name
Deputy Surveyor – 210
Computer Draft man – 50
District registrar- 07 _ (group1)
Junior assistant – 50
Sub – Registrar – 22 (group2)
others
Popular Jobs in the revenue department VRO, I tired last time but not succeed during 2014, but now vanished, its good for my revenge, everything is corrupted until no one complain about it.
You can follow our TS MRO notification 2021 – 
to become a mandal revenue officer in telangana after training as Dy tahsildar through TSPSC Group 2 Notification 2021
TS Revenue Department Recruitment 2021 
TS Govt jobs 2021 notifcation in Forest department
Forest Range Officer – 200
Forest Section Officer -616
Forest Beat officers – 1000
Assistant Forest Beat officers – 217
TS Forest guard Notification ==?
qualification degree, 25KM walk in 4 Hours for male, 16 Km for Female.
from all the above TS Forest Beat officer  2021 notification is the popular one.
You can follow below page to get detailed recruitment, eligibility syllabus details of the ts forest.
# Ts forest department Recruitment 2021 – FBO, FRO, FSO  Latest  Notification updates
TS Irrigation department govt jobs 2021
Engineers and Officers staff – 1058
you can follow TSPSC AE notification 2021
Jobs in TS Finance department
Audit Officers – through TSPSC Group 2 Notification and TSPSC group 1 Notification.
B.com Or finance related diploma or degree necessary.
MAUD Urban
AEE – 73
AE – 202
TPBO -123
TPS-200
Food Inspector -20
HMWSSB managers /engineers – 146
Assistant FA -115
General employees -658
Group D category – 415
TS Higher education department
Junior lecturers – 392
Physical director -68
Librarian – 50
Lab attender -429
College education
Physical director -25
Librarian -21
Lab assistant -301
Technical education
Polytechnic lecturers
Physical director-31
Librarian -28
Lab attendant -141
Minstrity of women and child development WCD
ICDS Supervisor – 587  – ts anganwadi supervisor notification 2021 Roads & building
engineer and Officer staff – 513
Excise department
Constable -340
SI through group 2
Transport department
AMV inspector -45
Constable -137
Panchayat raj department
engineer and staff – 3528
Total vacancy 112536
civil supply department
junior assistant -29
etc -79
Election department
law officer -1
senior stenographer
122 posts in handicapped department
heritage department –
group d
105 total
director of adult education
132 posts
commissioner of officer
75
telangana army recruitment rally notification 2021

jobs
soldier, gd, trade etc
Organization
indian army
Vacancies
–
Education
8th /10th pass
More Details
# TS indian army rally Recruitment
Ts municipal jobs notification 2021

jobs
bill collector, ward officer
Organization
telangana government
Vacancies
3200
Education
12/degree
Last Date
#soon
More Details
# TS municipal jobs notification
ts govt jobs 2021 notification : FInd the latest government jobs notifications by Telangana government. present & upcoming jobs information. (AAO, TREIRB, Bill collectors, Police, Group IV, VRO, AE, gurukul etc ).
This year Telangana government announced vacancies in almost department due to election mania. anyway this time we need to get job Telangana government to secure life. Try hard and get the job.
Latest ts govt jobs 2021 notification
TS Govt Jobs Syllabus 2021 – TSPSC – Telangana Police
TSPSC Group 4 Syllabus
TSGenco Assistant engineer syllabus
TS Police SI Syllabus 2021
Upcoming & Present Unfilled govt jobs notifications in telangana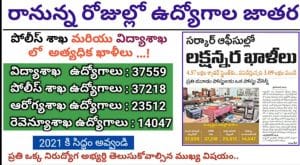 tstransco 300+ jobs
tspsc 5000+ jobs
ts govt jobs 2021 notification
| | | | | |
| --- | --- | --- | --- | --- |
| Category | jobs | selection process | salary | vacant & sanctioned jobs |
| group 1 | | Exam + interview | | 160 |
| group 2 | MRO , MPDO,municipal commissioner | Exam + interview | | |
| group 3 | | Exam only | | |
| | | | | |
| | | | | |
through upsc civils:
collector, ias officers, ips officers
group 1 jobs: deputy collector, JC,RDO,DGP, CP
, MRO, MPDO, SP,
Group 3 no interview
panchayat secretary grade 4,
group 4 junior assistants
Food safety officers
TS Govt jobs 2021 notification department wise in telangana

Department
jobs
Agriculture
Agriculture extension officer, Horticulture officer, TS Agriculture officer notification
Irrigation department
#TSPSC AE Recruitment
electricity boards
#TSgenco jobs AE/JE/SE/JPA / JLM
state administration service
ts group 1 posts, tspsc group 2 posts, ts group 4 posts
TS Police department
TS Constable, TS SI Notification, ACP /DSP through groups , #TS Home guard jobs

#TS jail warders, TS Police firemen

Revenue department
VRA, VRO, MRO, RDO, JC,  Sub registrar
Finance
Treasury officer / audit officer
Panchayat & rural development
Panchayat secretary, MPDO, DPO
Municipal
Municipal commissioner grade 4 through group 2, ghmc bill collector, ts municipal ward officer
water supply HMWSSB
Engineer / manager , regional manager
Civil supplies & Food
#TSPSC Food Safety officer
Education department
#PGT, TGT, PRT Teachers & Non teaching staff SGT

more at #TS Teachers recruitment

#TS Gurukulam jobs, NVS, KVS, KGBV, SSA

Forest department
#TS Forest Guard notification,  #Assistant forest beat officer

#forest beat officer, #forest section officer

animal husbandry
#tspsc veterinary assistant notification
Social welfare department (SC,ST, and obc)
#BC /SC/ ST Hostel wardens

#BC Welfare recruitment

Women and child Department
#TS Anganwadi worker & teacher
roads and buildings department telangana
TS Higher education
#TSPSC Assistant professor, Degree lecturers, JL, Polytechnic lecturers
Transport
IT Department
Excise & Prohibition
#Excise constables, Excise Sub Inspector
Medical & Health and Family Welfare
#TS Staff nurse, TS Doctors / medical officers, Pharmacist, lab technician,

#TSRTC
Driver, conductor
#SCCL
#Singareni recruitment

ITI,Engineer jobs , teachers

Also follow TS Cabinet ist & ministers present
ts govt jobs 2021 notification in various departments
Tsgenco & transco
AE/JE
accountant
JLM
JPA
police department jobs tslprb
home guard,
Sub inspector,
constable, fireman, jail warders,
Excise constables, excise Si
forest beat officers, forest guard
Teacher jobs
TGT,pgt,prt,
Lecturers, assistant professors
Staff selection commission / ssc jobs
Je,ldc clerk, mts,CGL,chal,
SI in delhi police & capf asi in cisf,
upsc
Geologist, forest service exam,
Defence jobs
navy: 12th entry, engineering entry
army: soldiers entry with 10th pass
Airforce: 12th pass entry sailor & officers.
IB ACIO: with degree.
Quick Links:
Waiting for Admit card & exam
Results & selection list yet to Release
TS High court Various Vacancy Interview Admit Card
TSSPDCL Jr Lineman Revised Rank List
Food Safety Officer Selection List
TSPSC Group 4  5th Spell Certificate Verification List & Dates
Telangana Govt jobs by Organization
Popular Recruitment Boards in Telangana
SCCL recruitment Karimnagar
TS Anganwadi Recruitment
GHMC Hyderabad Recruitment  // bill collector
Telangana Forest Department
Osmania University
Telangana State level Police Recruitment Board TSLPRB
TS Revenue department
TSSPDCL
TSTET // wating for results
TSPSC Group 1,2,3,4
Panchayat Secretary
Popular ts govt jobs 2021 notification
Constables
SI
VRO
panchayat karyadarshi / secretary
 MPDO, MRO Group 2 Jobs,
Group 3 and group 1.
Descriptive test only for Group 1 posts only.
TS candidates also apply for SSC, UPSC, Army, navy, bank jobs and other central government jobs.
Job Location: TELANGANA (TS)
Nizamabad
Khammam
Warangal
Hyderabad
Adilabad
Karimnagar
Mahbubnagar
Medak
Ranga Reddy
Latest News on ts govt jobs 2021 notification
TS TREIRB 2932 TGT & PGT Posts released
TS KGBV recruitment for PGCRT Posts exam conducted on
6628 vidya volunteers to teach in high schools.
1524 Group 4 jobs, 700 vro, RTC 72 posts, revenue 524 Junior assistant jobs
TS Police recruitment age limit increased up to 3 years
Department of Agricultural Marketing, Govt. of Telangana going to fill 200 posts Assistant market survivors 80, junior market supervisor posts 60 and other etc
TSPSC Group 1 Notification for 125 Posts.
There is no news as of now regarding ts govt 9000 posts.
What are the Popular Recruitment Organizations in Telangana?
For latest ts govt jobs 2021 notification vacancy Telangana Public service commission is main recruiting agency. For police jobs like constable, SI, Forest guard, Fireman, excise constables
Telangana state Police recruitment board takes responsibility to notify and complete recruitment process.
Telangana state electing board  tsgenco recruits engineers in Telangana Power general & Distribution Company itself. Meanwhile other departments in telangana like revenue, Panchayat raj, agriculture, food & civil supply departments depend on telangana public service commission.  Telangana health & family department notifies for various vacancies in contract basis posts like staff nurse, medical officer. NHM (NRHM) / National Rural Health Mission Telangana offer many staff nurse jobs. Also govt medical colleges & hospitals and esic fulfill medical jobs in telangana.
For recruiting teachers in govt school there is a Telangana teacher ability test by Telangana teachers recruitment board for filling vacancies like TGT, PGT, PRT, SGT etc in govt schools. For filling faculty especially Assistant professor Telangana govt depends on state public service commission, these jobs including in polytechnic degree lecturers, JL, DL also assistant professors in universities faculty in medical& engineering colleges.
there are huge opportunities from above govt departments to get ts govt jobs 2021 notification announcements.
How sarkari result Help with TS govt jobs 2021 Notifications?
You can subscribe to your ts govt jobs 2021 notification alerts by bookmarking this page, also on facebook, twitter through mobile app. This page updates latest Telangana govt jobs News & Notifications Current & upcoming Vacancy Info.
Also you can find Telangana public service commission exams syllabus, notification status like Admit card, exam date, results and final selection merit list.
Whatsapp viral message regarding ts govt jobs 2021 notification
పోలీస్‌ శాఖ – 37,820 పోస్టులు
2. విద్యుత్ శాఖ- 12,961 పోస్టులు
3. గురుకులాలు – 12,438 పోస్టులు
4. విద్యాశాఖ(టీచర్లు) – 12,005 పోస్టులు
5. వైద్యారోగ్యశాఖ- 8,347 పోస్టులు
6. సింగరేణి – 7,785 పోస్టులు
7. టీఎస్‌ ఆర్టీసీ – 3,950 పోస్టులు
8. పంచాయతీరాజ్‌ శాఖ – 3,528 పోస్టులు
9. రెవెన్యూశాఖ – 2,506 పోస్టులు
10. అటవీశాఖ – 2,033 పోస్టులు
11. పురపాలక పఠనాభివృది శాఖ – 1,952 పోస్టులు
12. ఉన్నత విద్యా శాఖ – 1,678 పోస్టులు
13. నీటిపారుదల శాఖ – 1,058 పోస్టులు
14. ఆర్ధిక శాఖ – 720 పోస్టులు
15. మహిళా, శిశుసంక్షేమ శాఖ – 587 పోస్టులు
16. రోడ్లు, భవనాలశాఖ – 513 పోస్టులు
17. రవాణాశాఖ – 182 పోస్టులు
పోలీస్‌ శాఖ ఖాళీలు :
సబ్‌ ఇన్‌స్పెక్టర్స్‌ – 1739 పోస్టులు
పోలీస్‌ కానిస్టేబుల్స్‌ – 38,081 పోస్టులు
పాఠశాల విద్యాశాఖ :
మోడల్‌ స్కూల్‌ ప్రీన్సిపాల్స్‌ – 88 పోస్టులు
పీజీటీ – 477 పోస్టులు
టీజీటీ – 985 పోస్టులు
టీచర్‌ పోస్టుల ఖాళలు :
స్కూల్‌ అసిస్టెంట్స్‌ – 1,950 పోస్టులు
సెకండ్‌ గ్రేడ్‌ టీచర్స్‌ – 5415 పోస్టులు
లాంగ్వేజీ పండిట్స్‌ – 1,011 పోస్టులు
ప్రీఈః – 416 పోస్టులు
డైట్‌ కాలేజీ లెక్కరర్లు – 49 పోస్టులు
డైట్‌ సీనియర్‌ లెక్కరర్లు – 19 పోస్టులు
ఐఏఎస్‌ళ లకృరర్లు – 18 పోస్టులు
ఇతర పోస్టులు – 2197 పోస్టులు
గురుకులపారతాలలటీచర్లు – 541 పోస్టులు
వైద్యారోగ్యశాఖ:
డాక్టర్లు (అన్ని రకాలు) – 4347 పోస్టులు
ల్యాబ్‌ ఆసిస్టెంట్లు – 4347 పోస్టులు
ఇతీర పోస్టులు – 4000 పోస్టులు
టీఎస్‌ ఆర్టీసీ:
జూనియర్‌ అసిస్టెంట్స్‌ (ఫైనాన్స్‌) – 39 పోస్టులు
జూనియర్‌ అసిస్టెంట్స్‌ (పర్శనల్‌) – 39 పోస్టులు
మెకానికల్‌ సూపర్‌వైజర్స్‌టైనీ – 123 పోస్టులు
ట్రాఫిక్‌ సూపర్‌వైజర్‌ టైన్‌ – 84 పోస్టులు
ఆఫీస్‌ అండర్‌ ట్రైనీ జనరల్‌ – 39 పోస్టులు
ఆర్టీసీ కానిస్టేబిల్స్‌ – 280 పోస్టులు
ఇతర పోస్టులు – 615 పోస్టులు
రెవెన్యూశాఖ :
జూనియర్‌ అసిస్టెంట్‌/టైపస్ట్‌ – 421 పోస్టులు
డిప్యూటీ కలర్స్‌ – 08 పోస్టులు
డిప్యూటీ తహసీల్దార్లు – 38 పోస్టులు
వీఆర్వోలు – 700 పోస్టులు
డిప్యూటీ సర్వేయర్లు – 210 పోస్టులు
కంప్యూటర్‌ డ్రాఫ్ట్‌మెన్‌ – 50 పోస్టులు
డిస్‌ రిజిస్తార్‌ – 07 పోస్టులు
సట్‌ రిజ్ట్తార్‌ – 22 పోస్టులు
ఇతర పోస్టులు – 1,000 పోస్టులు
వ్యవసాయశాఖ:
ఏువోలు – 1911 పోస్టులు
హార్టికల్చర్‌ ఆఫీసర్స్‌ – 75 పోస్టులు
అగీకలార్‌ ఆఫీసర్‌, – 120 పోస్టులు
అటవీశాఖ:
ఫారెస్ట్‌ రేంజ్‌ ఆఫీసర్స్‌ – 200 పోస్టులు
ఫారెస్ట్‌ సెక్షన్‌ ఆఫీసర్స్‌ – 816 పోస్టులు
ఫారెస్ట్‌ బీట్‌ ఆఫీసర్స్‌ – 1,000 పోస్టులు
అసిస్టెంట్‌ బీట్‌ ఆఫీసర్స్‌ – 217 పోస్టులు
అసిస్టెంట్‌ ఎగ్జిక్యూటివ్‌ ఇంజనీర్స్‌ – 79 పోస్టులు
ఏఈ /ఎంపఈ/టీవో పోస్టులు – 202 పోస్టులు
ట్వలీవో – 123 పోస్టులు
టీస్‌ – 200 పోస్టులు
పుడ్‌ ఇన్‌స్నెక్ట్స్‌ – 20 పోస్టులు
మేనేజర్స్‌ ఇంజీనీర్‌(నోటిఫైడ్‌) – 146 పోస్టులు
అసిస్టెంట్‌ ఎఫ్‌ఏ(నోట్‌ఫైడ్‌) – 115 పోస్టులు
జనరల్‌ ఎంప్లాయిస్‌ – 858 పోస్టులు
ఇతర కిందస్టాయి ఉద్యోగాలు – 415 పోస్టులు
ఉన్నతవిద్యాశాఖ:
జూనియర్‌ లెక్బరర్లు – 392 పోస్టులు
ఫిజికల్‌ డైరెక్టర్స్‌ – 88 పోస్టులు
లైట్రేరియన్స్‌ – 50 పోస్టులు
ల్యాబ్‌ అటెండర్స్‌ – 429 పోస్టులు
కాలేజీయేట్‌ ఎడ్యుకేషన్‌:
ఫిజీకల్‌ డైరెక్టర్స్‌ – 25 పోస్టులు
లైట్రేరియన్స్‌ – 21 పోస్టులు
ల్యాబ్‌ అసిస్టెంట్స్‌ – 301 పోస్టులు
సాంకేతిక విద్యా శాఖ:
లె్బరర్చ్‌ – 192 పోస్టులు
ఫిజికల్‌ డైరెక్టర్స్‌ – 31 పోస్టులు
లైట్రేరియన్స్‌ – 28 పోస్టులు
ల్యాబ్‌ అటెండర్స్‌ – 141 పోస్టులు
నీటిపారుదలశాఖ:
ఇంజినీర్స్‌ అండ్‌ ఆఫీసర్స్‌ స్టాఫ్‌ – 1,058 పోస్టులు
ఆర్ధికశాఖ:
ఆడిట్‌ ఆఫీసర్స్‌/ ట్రజరీ ఆఫీసర్స్‌ – 720 పోస్టులు
మహిళా, శిశుసంక్షేమ శాఖ:
సూపర్‌ వైజర్స్‌ ఎ – 58 పోస్టులు
రోడ్లు, భవనాలశాఖ :
ఇంజినీర్‌ అండ్‌ ఆఫీసర్స్‌స్టాఫ్‌ – 513 పోస్టులు
త్సైజ్‌శాఖ:
కొనిస్టేబుల్స్‌, ఎ – 340 పోస్టులు
రవాణాశాఖ:
ఏఎంవీ ఇన్‌స్పెక్ట! – 5 పోస్టులు
కానిస్టేబుల్స్‌ – 197 పోస్టులు
పంచాయతీరాజ్‌ శాఖ:
ఇంజినీర్‌ అండ్‌ ఆఫీస్‌ స్టాఫ్‌ – 3528 పోస్టులు
How to register free job alert for TS govt jobs?
Enter your email address to get latest & upcoming ts govt job notifications from various departments / organization telangana. Clerk, steno, staff nurse, assistant, engineer and other various govt jobs in telangana waiting for you. Candidates can get telangana government job alerts by email, mobile app, web app etc.
Are there any female govt jobs notifications in telangana?
There is a reservation for female candidates along with community category in telangana govt jobs. Almost every govt job notification in telangana, also various in various departments like revenue, panchayat raj, agriculture & forest, police, health department.
What are 10th / 12th pass government jobs list in ts /telangana?
10th & 12th pass jobs accountable for 50-70% jobs in telangana, for 10th & 12th pass candidates there are various Group D jobs, as well as ITI Diploma jobs available in telangana state government and as well as central govt & PSU Companies. Steno, clerk, junior assistant, constable, home guard etc jobs available with 10th /12th pass in telangana;
What are the popular ts govt jobs 2021 notifications?
The TS government & State public service commission conducts public service exams yearly basis , those exams are group 1, 2, 3, 4 civil, forest, police, engineering service exams. In telangana most popular jobs are police department's constable jobs, because 1 constable required for every group of people.
| Education | Vacancies | More details |
| --- | --- | --- |
| 10th pass | 1000+ | #here |
| 12th Pass | 3000+ | #here |
| Any Degree | 10000+ | #here |
| ITI Diploma | 500+ | #here |
| Engineering | 5000+ | #here |
| LLB / law Graduate | 100+ | #here |
| Bsc Nursing / ANM/GNM | 500+ | #here |