Govt Staff nurse vacancy 2021 – apply for latest Recruitment notifications . Central government of india released the notification for Staff nurse. Interested candidates can download complete vacancy notification through Nhm.gov.in. Meanwhile, Know the 2021 Govt Staff nurse jobs eligibility, salary, selection process & important dates below.
This year, 2021 ANM vacancy is a high demand notifications . For a quick reference, Govt Staff nurse Application & Notification also available at Nhm.gov.in. You may interested to know  latest govt jobs notification and central government jobs, before applying for Govt Staff nurse 2021 vacancy notification.
Staff Nurse nursing officer Vacancy 2021 ANM GNM jobs
GRMC / GMRC Staff Nurse vacancy 2021 -230 Posts
GRMC College gwalior announced recruitment notifcation for staff nurse male & female total 238 posts.
also announced for junior residents & doctors.
ncl & MCL staff nurse jobs 2021
Northern Coalfields Ltd & mahanadi coalfields and nlc release staff nurse notifcation make sure to checkout details above links.
www.caritashospital.org staff nurse
www.caritashospital.org kerala  has vacancy for clinical instructor for msc nursing. and staff nurse internship programme, candidates must registered with kerala nursing council.
Staff nurse jobs in government hospitals & medical colleges
GGH Vijayawada Andhra pradesh – 07 Posts  Selection process interview basis: more  krishna.ap.gov.in.
Mahanadi Coalfields Limited (MCL) – Closing Date 20th May 2021 46 Posts here,
AIIMS Rishikesh Staff Nurse Grade 2 – 700 Posts
nursing officer – 300, lab tech, junior and  senior residents
walkin interview date: 10th May to 31 May 2021.
Uttarakhand upnl para medical staff – 507 Posts
staff nurse, lab tech, pharmacist, ward boy /aaya etc.
last date: 31 May 2021  (here)
Delhi Nursing Officer  2021 – DSSSB , AIIMS
DSSSB will issue the notifcation for 5746 Staff nurse, Due to covid situation there has to be new staff nurse and other paramedical staff has to announce by delhi government on contract basis, like rajasthan UTB basis.
There is Nursing officer vacancy in delhi at AIIMS Delhi appy between 4th may to 7th may 2021 interview basis read here.
DHS manipur nurse doctor vacancy 2021
walkin interview dates: 10th to 17th may 2021
Result: june 2021
Posts:
Name Of Post Date of Interview
Staff Nurse 14th to 17th May 2021
Medical Officer 6th to 9th May 2021
Multitasking Staff 10th to 13th May 2021
notification & application form:
here
Punjab Staff Nurse recruitment 2021 – BFUHS – 503 posts
Punjab medical college & hospitals, BFUHS announced 503 Staff Nurse jobs in patiala etc.
Application from 1st to may 2021 to 15th may 2021.
RIMS Staff Nurse notification 2021 = 370 posts
March 2o to April 30th 2021 till 5pM.
>> RIMS Ranchi staff Nurse recruitment 2021
www.nr.indianrailways.gov.in staff nurse jobs
88 Posts Through contract basis
Salary. 18000 to Rs. 44900
last date: April 30th 2021
apply here.
atal bihari vajpayee medical college faridabad recruitment for staff nurse yet to available checkout haryana staff nurse recruitment 2021
4155 staff nurse vacancy
4155 staff nurse vacancy 2019 for under processing still, please comment the below this 4155 posts notifcation so we can get more information from officials.
Puducherry Nursing Officer Recruitment 2021
75 Posts
interview date: 07 May 2021 at 10 AM
Location puducherry:
Nursing Officer – Diploma B.Sc. /M.Sc. In Nursing
other paramedical jobs
nursing officer jobs 2021; Apply online for latest Nurse jobs   subscribe to Staff Nurse 2021 Vacancy Page, to know immediately about the latest Staff Nurse Jobs notification from Sarkari result. Find Newly announced Staff Nurse Job Vacancies 2021 across India first on sarkari result.in. Find out latest staff nurse govt jobs in your local area as well as all over India. staff nurse govt job interview base is here.
Uttrakhand staff nurse vacancy in ukmssb
UKMSSB announced 40 nursing tutors eligible candidates with bsc, msc nursing can apply before last may 2021, selection process includes written exam and interview
Jharkhand NHM ANM recruitment 2021
NHM Simdega announced notification for 56 posts some them included lab tech, staff nurse, anm, gnm etc jobs
Staff nurse -10,
ANM  -14
GNM -02
tohers 24
staff nurse jobs in hamirpur hp
hpssc – hpsssb announced for 90 staff nurse vacancy for 37-1/2021 notifcation you can apply online at hppssb.hp.gov.in beofre 9th may 2021.
MP staff Nurse ANM jobs 2021 – madhya pradesh
GMC datia medical college nurse jobs vacancy 2021
Government Medical College Datia (M.P.) announce for 215 staff nurse vacancy, last date for applying this posts. BSc nursing /anm candidates with age limit 18-35 can apply for this post.
follow #MP staff Nurse Recruitment 2021
ratlam medical college staff nurse notification – 390
390 staff nurse last date: 25 April 2021
GMC Khandwa Staff Nurse Recruitment 2021- (62 Post)
62 staff nurse vacancy
Last date: 12 April 2021
apply online at mponline.gov.in
baba farid university staff nurse notification 2021 – latest update
Previous year, BFUHS released for staff nurse notifcation for 500+ posts. but there is news for BFUHS Upcoming nursing officer vacancy 2021, Just like SGPGI Sister grade notifcation cancellation notice just before the online application, BFUHS may not going to fill staff nurse jobs this month. but it's a good idea to track bfuhs staff notifcation  at bfuhs recruitment 2021.
Railway staff nurse vacancy 2021  updates
There is high requirement for staff nurse in variou railways zones, but those are contract basis, meanwhile as of Western central released notifcation for apprentice posts, but staff nurse 2021 vacancy notifcation yet announced within 60 days mean while follow Railway vacancy 2021 or this page.
central railway staff nurse recruitment 2021 
NHM Staff Nurse jobs & exam date Updates
MP NHM staff Nurse admit card released last week, UP NHM Staff Nurse recruitment for 2021 notifcastion going to fill by UPSSSC,  There are 50000+ vacancy in UP Staff nurse notifcation, Meanwhile haryana  female staff nurse exam date not yet announced hssc. SGPGI Staff nurse for 800+ posts yet to release for UP candidates.
crpf staff nurse vacancy 2021 – latest updates
CRPF Recruits staff nurse as a ASI Posts, this year crpf constable recruitment notifcation yet to announced by Indian army or defence ministry of india. get the crpf staff eligibility criteria,  education age limit details from below.
CRPF Staff Nurse Recruitment  2021
DHS Staff Nurse notifications 2021 – Directorate of Health Services
DHS Staff Nurse Recruitment 2021
ANM jobs in 2021 CMHO –
CMHO Bemetara https://www.bemetara.gov.in  announced 40 nursing officers last date is 17/4/2021
recently chhattisgarh cmho recruited  staff nurse etc posts,
you may ask for cmho full form,
CMHO stands for Chief Medical Health Officer
Chief Medical Health Officer  cmho recruits anm, staff nurse, lap tech etc.
Staff nurse jobs in medical colleges & hospitals
Goa medical college and esic medical colleges around india and some medical colleges in madhya pradesh recruiting staff nurse for 2021 year.
ministry of health and family welfare recruitment for staff nurse
there is a announcement for upcoming staff nurse recruitment in mohfw.
Staff nurse exam date & Admit card 2021 updates
>> Staff nurse admit card 2021 > Staff nurse syllabus 2021
HSSC Staff Nurse Admit Card 2021>> UBTER Uttarakhand Staff Nurse Admit Card 2021 
UBTER Staff Nurse Recruitment 2021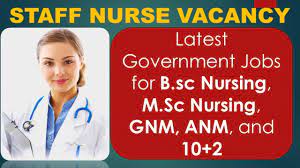 Staff nurse result 2021 – updates
DHS maharashtra staff nurse result 2021 released at –
explain GNM ANM Staff nurse and nursing officer & Nursing superintendent
Staff nurse salary
| | |
| --- | --- |
| Designation | salary per month |
| Staff Nurse Salary | .36,000 to 75,000 |
| ANM Nursing Salary | .10,000 to 15,000 |
| GNM Nursing Salary | 18k to 28,000 |
| BSc  Nursing Salary | .25,000 to 35,000 |
| MSc Nursing Salary | .35,000 to 75,000 |
| Nursing Officer Salary | .45,000 to 77,000 |
| Nursing Superintendent | |
| CHO Community Health Officer | |
NHM Staff nurse salary :
Rs.26,000 to Rs.30,000
ANM: Rs.16,000 to Rs.22,000
GNM: Rs.26,000 to Rs.30,000
Madhya Pradesh medical colleges Rs.28,700 to Rs.30,000 Per Month
Staff nurse age limit
18-45 years for general without age relaxation by state and central government agency.
Staff Nurse recruitment Selection process in government
depends on hiring hospital or institute.
Here is the section process of staff Nurse
Shortlisting based on —
CBT (computer based online test )
Skill test.
Staff Nurse Syllabus – updates
>> Staff Nurse Syllabus 2021  >> NIMHANS Staff Nurse Syllabus
Staff Nurse grade 1 & Grade II exam pattern CBT
Subject
Staff Nurse Grade-1 Marks & q

Staff Nurse Grade-2 Marks & q

knowledge of concerned post (Nursing)
70
80
Aptitude and General Awareness
15
10
Computer Knowledge and Nursing Informatics
15
10

100 marks Total.
1.30 hours exam duration
1 negative mark for 4 wrong answers.
Top Jobs for staff nurse vacancy
Staff Nurse
Nursing Superintendent
Nursing Officer
Junior Nurse
Midwife
Nurse Mid Level Healthcare Provider
Community Health Officer
Top Hiring Agencies
nursing officer job description
MPHW vs CHO
Female worker, Community health worker / officer
qualification:
Diploma in General Nursing and Midwifery.
OR
Registered as Nurse and Midwife in State/Indian Nursing Council.
OR
B.Sc. Nursing /B.Sc. (Hons) Nursing.
OR
B.Sc. (Post-Certificate)/Post Basic B.Sc. Nursing /PC B.Sc..
Staff Nurse Exam Pattern ft ESIC
Part
Subject
Marks
Part A
Technical Subject (Nursing)
100
Part B
General Aptitude and awareness
25
Total
125 
what are the Types of nursing jobs in government?
Staff Nurse
ANM
GNM
Nursing Officer
Nursing superintendent
CHO  / Community health officer
What are the departments in hire Staff nurse jobs?
State health department
NHM /NHRM National Health Mission
District Medical Officer / DMO – district level notifications
govt institutions / colleges
Government hospitals
whats difference between staff nurse & Registered nurse?
After completing nurse course either diploma ANM or Degree BSC Nursing. candidates has to register with State nursing council
just paying 500 Rupees varies state to state. valid maybe for 3 years.
after 3 years again we have to renewal.
Why there is lesser opportunities for Male Staff nurse ?
obviously, the answer is yes, but developed countries like western states has more male nurse jobs available. when compare to india.
Why there is Aptitude test for female staff nurse in govt sector?
to identify the brain processing efficiency there is a aptitude test conducted, along with subject topics. you may also check out staff nurse exam syllabus
courses for staff nurse vacancy
ANM/mphW Course n gnm staff nurse /nursing officer job.
FAQs on Staff nurse govt jobs 2021
BSC Nursing vs ANM vs GNM
ANM stands for Auxiliary Nursing Midwifery, it is a 

2 year undergraduate diploma course in nursing (12th with 50% marks)
specialisation in maternal care.
What is the meaning of GNM?
GNM stands for (General Nursing and Midwifery) and focuses on educating nursing students on the topics of general health care and midwifery.
GNM is a 3.5 year diploma course in general nursing and healthcare.
Focus is more on pregnancy care and care of mothers.
BSc Nursing: our-year undergraduate level professional course in multiple aspects of healthcare
What is the eligibility of Staff Nurse jobs in government?
Education qualification: GNM diploma.
What are the eligibility criteria for Govt Staff nurse?
It's a popular question so we clearly mentioned above, Govt Staff nurse ANM jobs 2021 age limit, education salary etc.
How can I download Govt Staff nurse Syllabus?
You can view in our syllabus section or download the Govt Staff nurse Notification from below and view the selection criteria. Note download for latest 2021 vacancy Staff nurse.
How to know Category wise Vacancy for 2021 Govt nursing officer notifications?
In case you have not found here, download the Central government of india Staff nurse Notification Pdf from below and view the details. General rules are 60% vacancy in general category, OBC 30%, 20 % Staff nurse allotted for SC and ST categories.
What's the salary range for Govt Staff nurse 2021?
As we mentioned above, Govt Staff nurse salary latest CPC matrix table.
Where can I get Govt Staff nurse Admit card, answer key, results?
For that you need to track latest updates here, also on Central government of india official website careers page or our admit card, sarkari result, section. You may ask for how to download Govt Staff nurse admit card or hall ticket, for that you need to have Staff nurse notification registration ID and mobile or data of birth. Detailed instructions available at our Govt Staff nurse admit card 2021 section.
When will Govt Conducts Staff nurse exam / exam date 2021?
In high priority cases, next month after the Staff nurse jobs online application closing date, Most Govt 2021 Recruitment notifications exams scheduled within one year, some Govt Recruitment exams will postpone up to three years chances will be 25%, Govt Staff nurse date will be updated in important dates, once the Govt releases the Exam Notice.
When will Govt Release the Final Official Answer Key for Staff nurse notification?
If Govt Releases Final answer key for Staff nurse, they give a chance to raise objection, after objection for Staff nurse exam, Govt Releases the written exam Result, its good sign to release Competitive exam results, further Staff nurse recruitment / selection process for 2021.
How do I know detailed eligibility criteria for Central government of india Staff nurse?
Except Central government of india , We are at sarkari Result, and almost all employment news sources provides brief information about Staff nurse age limit & education details, Some Govt 2021 notification have more posts along with Staff nurse vacancy. In that case, candidates are advised to download Staff nurse recruitment Advertisement pdf from important link section.
What's the last last date for application for 2021 Govt Staff nurse jobs?
Central government of india Last date most probably extends time to time based on user registration volume, as we mentioned above tentative last date for 2021 Govt Staff nurse Recruitment.
What's the age limit of Govt Staff nurse for general as well as reserved candidates?
We indicates general age limit for 2021 Staff nurse posts or sometimes overall posts, you have to check the detailed notification pdf, post wise age limit, For OBC 3, SC, ST 5 years etc age relaxation available from Govt Recruitment board.
What are the expected cutoff marks for 2021 Govt Staff nurse jobs?
Based on previous notification, The Govt Staff nurse final cut off marks will be 80% for general, OBC 60-70%, SC/ST 50-60% marks out 100 marks in general aptitude test.
Follow Staff Nurse Jobs on Facebook
| Education | Vacancies | More details |
| --- | --- | --- |
| 10th pass | 1000+ | #here |
| 12th Pass | 3000+ | #here |
| Any Degree | 10000+ | #here |
| ITI Diploma | 500+ | #here |
| Engineering | 5000+ | #here |
| LLB / law Graduate | 100+ | #here |
| Bsc Nursing / ANM/GNM | 500+ | #here |